About us
Glenda Pho Cafe serves healthy and authentic Vietnamese as well as Asian cuisines. Laksa, Glenda Pho Rice Noodle Soup, Egg Noodle Soup, Curried Chicken, Grilled Chicken with Rice Vermicelli and Salad, Spring Rolls with Rice Vermicelli and Salad, Stir Fried Flat Noodle and Vegetables, Lemon Chicken, Honey Chicken, Prawn Dumplings, San Choi Bao, Tom Yum Spicy Soup, Vietnamese Salad, Thai Salad, Hainanese Chicken and Prawn Lemongrass with Rice Vermicelli are some of our customer favourites. If you feel like trying something new to the taste, head over to 191 Bay Street, Port Melbourne VIC. We provide online ordering, delivery and delivery services every day.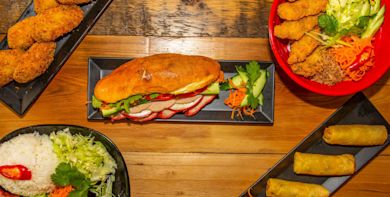 Reviews
Rosemary
"This is a very filling meal and was delivered so quickly. I love ordering from them as everything is really good."
20/02/2020
Ashley
"unusually outstanding for home delivery"
18/02/2020